Professional Services Billing
Professional Services billing is simplified with integrated software applications for Projects, Time and Expense Reporting.
TrackerSuite.Net streamlines the time and billing process from beginning to end, for general users, managers and accounting. It simplifies reporting, automates timesheet and expense report management, and improves the accuracy of invoicing by directly tying time and expenses to projects and tasks.
Simplified Reporting: Automating Timesheet/ Expense Report Creation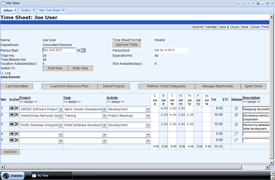 Web timesheets that users can auto-populate with resource plans or previous timesheets
TrackerSuite.Net provides easy-to-use Web timesheet and expense report forms. Users can quickly assign time and expenses to project and tasks using pick-lists. TrackerSuite.Net also provides functions for auto-populating these forms, saving users even more time.
In reporting time for the period, users can click a "Last Submitted Timesheet" to load tasks and activities from their previous timesheet into a new one. A "Load from Resource Plan" button allows them to load their scheduled work for the period into the timesheet.
For expense reports, users can choose from templates for their timesheets, for example, a consultant working at a customer site might use a "Per Diem" template which included meals, travel and lodging expense categories.
Automating Management: Approval Routing and "Auto Nags"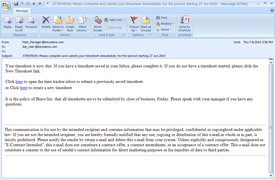 Automated email reminders put users one click away from their responsibility
On submission, timesheets and expense reports are automatically routed through the approval process via email, allowing managers to review and approve these items without leaving their Microsoft Outlook, Lotus Notes or Gmail client. As the timesheet or expense report moves through the approval process, electronic signatures are gathered, creating an audit trail for every item.
These applications also automate management functions for managers themselves. For example, an "Auto Nag" function emails a user if their timesheet is late, along with a link to the item in question, putting them 1 click away from their responsibility.
TrackerSuite.Net also provides views and reports that simply work for administrators. Using a "Timesheet Compliance" view, an Administrator can easily review the timesheet status of all employees, by department or manager.